Langkawi Lagoon Resort's Lobby
Langkawi Lagoon Resort's Lobby
We stayed at Langkawi Lagoon Resort on our recent trip to Langkawi and took the sea village studio suite for a few reasons:
1) Langkawi Lagoon has a playground and kids pool with a slide in the pool,
2) We thought it will have fantastic view of the ocean,
3) It comes equipped with kitchenette, so that my MIL can cook if she wants to.
4) Langkawi Lagoon is owned by MKLand, which can be considered Malay/Muslim managed, so we thought why not support our fellow Muslims instead of the usual Starwoods hotels?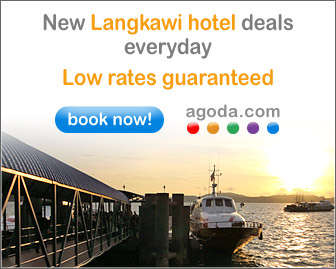 Enjoying the welcome drink at Langkawi Lagoon Resort
Sadly, we were quite disappointed with the hotel for the following reasons:
1) Playground is strewn with leaves and ants and pool is very small.
Langkawi Lagoon Resort's playground that can't be enjoyed by the kids
Langkawi Lagoon Resort's playground, best to stick to the swings and see-saw only
2) Only a small handful of Langkawi Lagoon sea villa units have good view of the ocean the rest of them offer no views at all. (Ours faced a construction site)
Langkawi Lagoon Resort Sea Village, beautiful to look at only from the outside
Langkawi Lagoon Resort: Only a handful villas has beautiful views
Rooms no 562-581 and 600-612 has the best views and 538-565 faced a construction site
3) The kitchenette works but no utensils nor crockery are supplied and the fridge is super small and barely cool.
4) The electric kettle was spoilt and we had to ask for a new one and the when I also mentioned that the TV reception is very bad, I overheard the guy at the other end of the walkie talkie said "Tell her not to watch TV" I'm like what??!!
5) Mosquito abounds and we had to purchase our own Mosquito repellent for the room and Housekeeping only asked us whether we want them to turn on the Mosquito repellent for us on our last night at Langkawi Lagoon.
6) There is no iron supplied in the room, you have to ask from Housekeeping and it took nearly 40 minutes for the iron to be sent to our room when I requested for it.
7) Furniture looks cheap and my MIL's room actually has an old TV (non-flat screen TV).
8) Room service food is not recommended.
Langkawi Lagoon Resort Sea Village Studio Suite
The kitchenette at Langkawi Lagoon
Langkawi Lagoon Resort Sea Village Studio Suite
Langkawi Lagoon Resort, the only place that they did decently was the toilet
Langkawi Lagoon Resort's toilet
My kids though enjoyed the stay at Langkawi Lagoon and for that we are glad. They absolutely loved the bath tub and refused to get out of it. They loved the buggy ride from the lobby to the sea village and they loved the small fish pond at the entrance of the lobby.
Langkawi Lagoon Resort: Fish pond near lobby's entrance
Breakfast selection is average and they barely change the menu daily, its just like chicken sausage today, beef sausage tomorrow and lamb sausage the day after. Fried yellow noodles today and fries rice flat noodles the day after. The roti canai or roti prata hardens when it is no longer warm and the cakes are only fresh on certain days.
Langkawi Lagoon Resort's small kids' pool
Facilities and hotel grounds are quite limited too. But, if you are just looking for an average hotel for stay with your kids, you can consider Langkawi Lagoon as they also provide babysitting services (advance notice required) which is a plus point. Another plus point is that the staff are quite polite and helpful which make the stay at this Langkawi hotel slightly better. We booked our hotel through
this website
to get a better price than the one stated on Langkawi Lagoon Resort's website.
You May Also Like: