The first time I went to Langkawi with my husband I was 6 months pregnant with my firstborn. At that point of time, we didn't really research much on what to see in Langkawi and mostly just drive around to the Langkawi attractions stated on the free Langkawi map that is handed out to you at the Langkawi Airport. This time around, after nearly 4 years, we return for a short vacation in Langkawi with our two small sons ( 3 years old ++ and 22 months old) together with my 71 year old mother-in-law and her 73 year old elder sister. No doubt this trip is different from the previous trip as our attraction focus will be more to those that will suit our kids and the seniors.
There are a few places of attractions in Langkawi that will entertain the kids. Don't put your hopes too high though. Aesthetically, these places could do with lots more. The attractions are moderately interesting for adults but kids under 6 years old will still find it fun.
1) Oriental Village
Oriental Village is where you can take the cable car up to Mt Mat Cincang. Be warned though that if your visit (like mine) coincide with the summer months of Langkawi, you will not enjoy going to Oriental Village as you will sweat profusely and its just not enjoyable under the scorching sun. The cable car is not air-conditioned, we came to this place twice, once at 2.00pm and the second time at 4.30pm both times the sun is just too hot to bear and we did not take the cable car in the end. The last ride of the cable car is at 6.00pm (7.00pm on Fris, Sats, Suns and Public Holidays) but they don't advise you to buy the tickets beforehand for the end of the day ride as should the weather turns bad, the ticket will not be accepted on another day. There is a rabbit farm and a deer farm at the top and the view from the top is supposed to be breathtaking.
Oriental Village has a small lake at the middle where the kids can do some boat pedaling (weather permitting) and feed the fishes or the ducks. There is also a small animal farm (very small) and an attraction named "Elephant Adventures" which is actually a small area housing one elephant that you can take a ride on (RM80 for 2 adults and 2 kids) or feed (RM30 for 2 adults and 2 kids). The elephant is very gentle and will not grab the food that you are giving him. In fact, if you hesitate (like me) he will gently move his trunk away and wait for you to feed him again. The tiger attraction in Oriental Village is a lone tiger behind a glass enclosure inside a cafe. You are not permitted to take pictures and the seats in front of the viewing area are only for customers of the cafe. There is also a marmoset on display in the cafe. The cafe is very inviting mostly because of the air-conditioning. Horse riding (RM10 - not too sure about this) or horse carriage ride (RM8 per person) is also available near the Oriental Village entrance.
2) Mangrove Tour / Kilim Geopark Mangrove Tour
Limestone Islands of Langkawi before entering Kilim GeoPark
Langkawi is famous for a number of tours on boats namely, Island Hopping Tour and Kilim GeoPark Mangrove Tour. We chose the Mangrove tour over the Island Hopping as my small kids still don't enjoy swimming on the sea nor the feel of sands between their toes. There are a few operators' agents stationed at Langkawi Airport just in front of the baggage collection area, prices are competitive and you can choose to follow a group to get a cheaper price or charter the whole boat for yourself for convenience at about RM200 - RM300 per boat. The duration of the tour is also shortened from 5 hours to 2-3 hours only since you don't have to wait for others. There is also an operator's agent stationed at the entrance of Oriental Village. Do be warned that these boats are quite small and a bit bumpy when hit by waves.
Langkawi Mangrove Tour with my kids
Kilim GeoPark Mangrove Tour typically include a visit to the bat cave, eagle watching / feeding, a visit to a fish farm. If you choose the bigger boat operators that charges around RM325 per person or EUR80 per person example Tropical Charters, Crystal Yacht or Stardust then you will get a buffet BBQ lunch, some time for kayaking at a nice spot and also sea "jacuzzi" this might be fun if your kids are around early teens. But since mine are still small and we brought along my elderly mother-in-law and her sister, this is not realistic for us.
We chose to charter a private boat that is slightly bigger than the normal ones that departs from Kilim Jetty. Our boat "Stella Maris" departs from Kuah Jetty so that we can soak in the beautiful sight of the limestone islands before entering Kilim Geopark. The boat is big enough for the kids to lie down on the seat when they are tired and play around when they get restless. The downside is that since the boat is the maximum size allowed to enter Kilim Geopark, it can only enter during mid tide to high tide. (Please PM me if you need the contact).
We took the bigger boat as there were small kids and seniors with us.
Langkawi Mangrove Tour with the boat Stella Maris
The bats are actually small and the cave smell a bit but my kids were quite excited looking at bats and didn't want to get out of the cave. The cave is also within a short distance from where you get off the boat, so you don't have to worry about having to walk too far in.
Langkawi Mangrove Tour : Exploring the bat cave
The fish farm is also very basic, not pretty at all but kids have a thing for fishes and the sting ray feeding was certainly fun (ermm.. to watch that is since we are all a scaredy bunch).
Langkawi With Kids : Stingray Feeding at Fish Farm; Kilim GeoPark
Eagle feeding is not encouraged as the eagles are fed commercially farmed chicken skins which results in thinner baby eagles' egg shells and the eagles being dependent on the tour operators for food and losing their ability to hunt but eagle watching really is a beautiful experience. Especially at a beautiful place like Kilim Geopark. It was such an amazing sight for us adults though our kids got bored after 5 minutes.
Langkawi Attractions: Eagle Feeding at Kilim GeoPark
If you are lucky, you might be able to spot dolphins if your boat departs from the Kuah Jetty when heading out for the Mangrove tour or if you are doing Island Hopping. Typically, dolphins will pass thru Langkawi during the Months of May, June, July, November and December. Sadly, my trip this time did not coincide with any of those months. At this moment, there is no dolphin cruise in Langkawi, you either take the Mangrove tour or Island Hopping tour and hope that you get lucky and bump into the dolphins.
3) Coral Island / Pulau Payar
If you have bigger kids that can swim and enjoy snorkeling, then a trip to Coral Island is a good idea. Do take the Coral Island tour that includes the platform as there is an underwater observation area there plus the food is better. Scout around for reliable Langkawi tour operators as the last time we went, we took the Coral Island beach package and we didn't know that we will be stuck on the island for 5 hours with less than desirable toilet facilities and non-existence f&b outlets. Since, yours truly can't swim, I had to contend with the non-colorful fishes near the shore while hubby went further in to look at the colorful fishes. Lunch was also very dismal (sandwiches which had some grains of sands) and very hard to chew fried chicken. The highlight of the Coral Island beach trip for me was the baby shark feeding and then it was a long and boring wait for the boat home.
4) Underwater World and Penguin Watch
Underwater World in Langkawi not only displays water creatures but also marmosets, birds and reptiles. All the exhibits are spaced out nicely and even though more could be done to make the aquarium pleasing to the eye, there are some interesting species of fishes that we have not come across such as the leopard sting ray, zebra sharks and the giant groupers. The fur seals were also very active and friendly while the Rockhopper penguins were indeed a funny sight. Come in with a low expectation and you will find the trip to be quite enjoyable. My small kids enjoyed the one hour that we spent there very much. Though bigger kids more exposed to world-class aquariums might find this one a bit boring.
Underwater World Langkawi
The Leopard Stingray at Underwater World Langkawi
Langkawi With Kids, African Penguins at Underwater World Langkawi
Langkawi For Kids; Rockhopper Penguins at Underwater World Langkawi
5) Langkawi Bird Paradise
The main draw of Langkawi Bird Paradise is the fully covered walkway (a welcome respite from the scorching sun or the heavy rain for parents) and the chance to feed most animals with the exception of the eagles, snakes, bear and crocodiles (for kids). Once you enter Langkawi Bird Paradise, you will pass by a stall that sells paper bags filled with fish pellets, grains, sliced carrots, sliced cabbage and chopped apples. Buy at least one so that your kids get to enjoy feeding the kois, ducks, birds, deer, donkeys, peacocks, porcupines among others. Do take note that the monkeys at the end of the feeding trail are a bit aggresive. The animals on exhibit are not many but enough to at least entertain your small kids for an hour
Langkawi For Kids: Feeding the flamingos at Langkawi Bird Paradise
Langkawi for Kids: Feeding the Cassowary at Langkawi Bird Paradise
Langkawi for Kids: Feeding the beautiful white peacock.
Langkawi for Kids: Feeding the smelly porcupine at Langkawi Bird Paradise
6) Crocodile Farm
We did not get the chance to explore this farm but if you have the time to kill, this might be a good place. They have a crocodile feeding in the morning (about 11.30 am - do check back the timing) and crocodile wrestling at 2.45pm.
7) Buffalo Park
If you hire a car and drive around Langkawi Island, you will see beautiful paddy fields and cows and buffalos. It's a picturesque sight with the mountains in the background. Again, we did not have the time to explore what Buffalo Park has to offer mainly because we were driving around looking at rubber plantations and banana plantations and we don't think that Buffalo Park will offer much. But, if your kids love buffalos then there are activities at the Buffalo Park such as cart riding, milking session, feeding and making mozarella. The entrance fee is quite cheap at RM3 and the other activities are available at a fee. This Buffalo Park is also very near to Friendly Farms, reportedly owned by Tun Mahathir (Malaysia ex-PM) processing cheese from Buffalo Milk.
These are just some ideas of what to do in Langkawi with kids. If your kids are bigger and can handle sea sports, I am pretty sure the resorts at Langkawi has more to offer. For us, the trip to Langkawi was more of just chilling out and making the small kids happy with small scale activities. It's definitely not like a trip to Universal Studios or Disneyland but well sometimes small things can make kids happy too and the most important thing is that the family gets to spend time together.
If you like my article above, could you please help me by booking your hotel through this website? (banner below) I know money is not everything but it does help with paying the bills :) Thanks!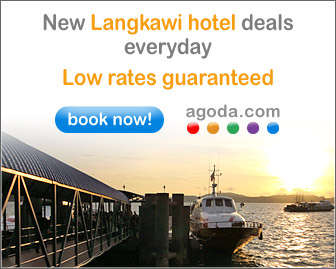 You May Also Like: